5.4. Openstack Horizon
OpenStack Horizon provides a graphical user interface to the IaaS finctionality of Openstack. It is available on india, sierra, hotel, and alamo. India and Hotel provide the newest vesrions of Openstack. However, if alder versions will also be useful.
While india and sierra support the native openstack protocols, HOtel and alama only provide the EC2 interfaces, which do not expose all functionality of openstack.
We provide here the basic information about how to use the OpenStack web interface and provides some information specific to using OpenStack on Alamo.
You login to the web interface using your FutureGrid username and password. If you change your FutureGrid password in the portal, that change will propagate to the OpenStack interface on Alamo or Hotel in less than an hour.
However, if you need to use india and sierra, a separate password is needed, that you can obtain from the manual pages expalining how to use the commandline tools. This is doen due to security reasons as the IU team does not want to distribute the users portal password which in principal is a bad idea as this password should not be placed into an rc file.
The initial login page appears as: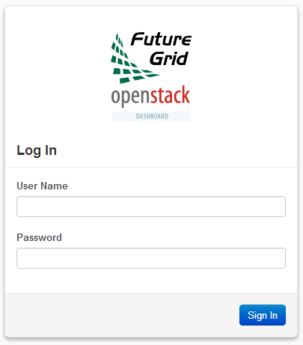 After a successful login, you will see the Overview page as shown below. This page provides a summary of your current and recent usage and provides links to various other pages. Most of the tasks you will perform are done via the menu on the lower left and will be described below. One thing to note is that on the left, your current project is displayed. If you have multiple FutureGrid projects, you can change which of them is your current project. All of the information displayed and actions that you take apply to your current project. So in the screen shot below, the quota and usage apply to the current project you have selected and no information about your other projects is shown.